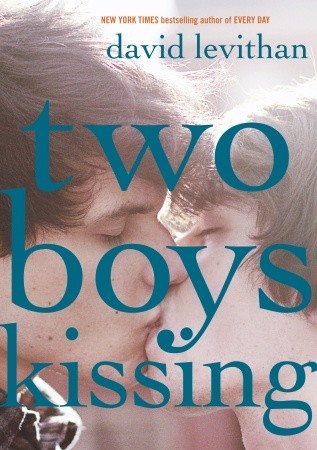 Outro livro que já queria ler há muito tempo..para aí há uns 4 anos.
Numa noite de muito calor lá comecei "Two boys kissing" que ao princípio estranhei mas depois entranhei. Não por ser um romance gay, que não tenho problemas com isso mas sim pela maneira como está contada a história, na 3ª pessoa.
Gostei no geral mas esperava um pouco mais do final. O livro é inspirado em factos reais.
Vou tentar fazer uma opinião mas isto anda mal para opiniões. :(
In his follow-up to the New York Times bestselling Every Day, David Levithan, coauthor of bestsellers Will Grayson, Will Grayson and Nick & Norah's Infinite Playlist, crafts a novel that the Los Angeles Times calls "open, frank, and ultimately optimistic."

Based on true events—and narrated by a Greek Chorus of the generation of gay men lost to AIDS—Two Boys Kissing follows Harry and Craig, two seventeen-year-olds who are about to take part in a 32-hour marathon of kissing to set a new Guinness World Record. While the two increasingly dehydrated and sleep-deprived boys are locking lips, they become a focal point in the lives of other teens dealing with universal questions of love, identity, and belonging.